The castle welcomes you.
Located in the heart of a 100-hectare wooded estate, Château de Brou dates back to the 15th century and offers an intimate atmosphere.
Rooms and suites
Each room and suite is unique and named after local personalities who have made a mark on the region's history. They feature comfortable bathrooms and are decorated in either a romantic or characterful style.
Reception spaces
The three reception spaces are available for your events, each with its own identity, as well as a professional kitchen. In the summer, the furnished terraces are perfect for enjoying outdoor meals, while in the winter, the fireplaces create a warm and cozy atmosphere.
A reception hall that can accommodate up to 200 people will be available in 2024. A spacious terrace with a view will be waiting for you for your cocktails, outdoor meals, or simply for a moment of relaxation.
Other Spaces and the Park
The consecrated chapel opens its doors for your religious events.
Privatizing the chateau gives you privileged access to the fully enclosed 100-hectare park, offering magnificent walks in the estate's forest. The luckiest may even encounter the deer that live there.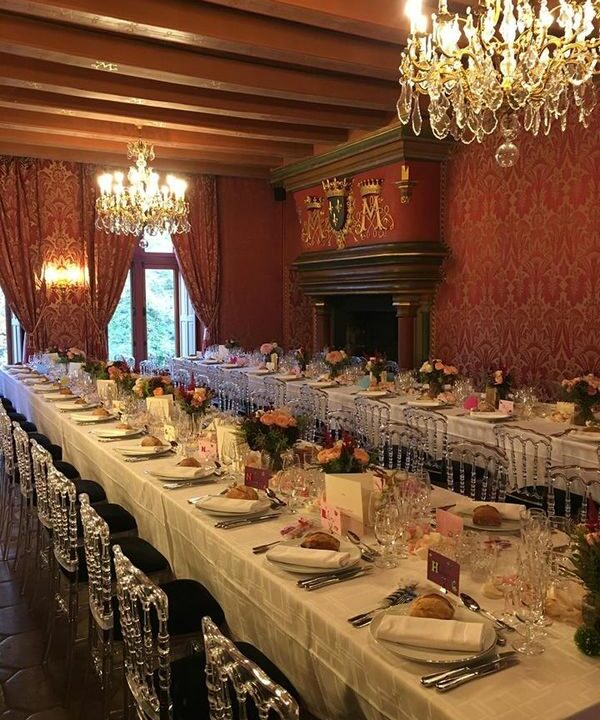 Rates and Conditions
Two nights minimum
Weekly rates are available depending on the time of year and the number of guests.
Self-catered stay
Towels and bed linens are included in the rental. All rooms are prepared according to your specific needs.
Our Options:
Certainly, here's the translation of the text without line breaks
Mid-stay cleaning service, Replacement of bath towels and mats; refreshing of bedding (€550).
Buffet-style breakfasts
Breakfast with seasonal products (from €14 to €18.50 per person).
Your prepared and delivered meals
We offer you the organization of your meals, as well as their delivery through our service providers.
These options can be finalized during the quote process. Contact us for more information at 02 47 65 80 80.